2014 Burton Blunt Snowboard Review
Average Rating:
4.0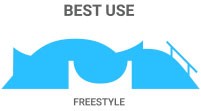 Freestyle boards are designed for doing tricks in the park
Twin - symmetrical allowing rider to ride regular or switch
Medium - responsive yet forgiving for progressing riders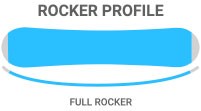 Rocker - a playful forgiving feel with plenty of float
Our Price: $279.94
Reg. $399.95(30% OFF)
Watch 2014 Burton Blunt Snowboard Video Reviews:
Read the Review Transcript:
Hey, this is Ian. I just got done riding the Burton Blunt in a 157. I give this board 4 out of 5 stars. What I really love about this board is it has what's known as Flat Top Rocker, so it's actually flat in between the bindings and rockered up in the tip and the tail. Scoop up in the tip and the tail, so it's actually catch free and you can really notice it when you're actually just doing land butters and just spinning around on the snow. Jumper cables up in the tip and tail, so you really feel that when you're loading it up, and it gives you just a little bit of extra pop. Like I said, 4 out of 5 stars and it's definitely geared for your intermediate to advanced, all mountain, freestyle rider.
Read the Review Transcript:
Hey, I'm Rob. Just got off the Burton Blunt. I give this board 4 out of 5 stars. Super easy board. It's a freestyle board, it's intermediate freestyle board. It's soft, it's playful, it's a great board if you're looking for kind of that entry level and even an entry level park board, and even an intermediate rider in the park. Really easy to toss around, really easy to maneuver at the lower speeds. It's not a board that you're really going to be able to go out and get outside of the park and really step on and lay into, but that's okay, because it's really not built for that. So just again, just that real easy to use beginner to intermediate freestyle rider.