2014 Gnu B-Nice BTX Snowboard Review
Average Rating:
4.4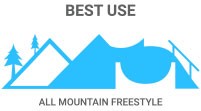 All Mountain Freestyle boards are for carving and the park
Twin - symmetrical allowing rider to ride regular or switch
Medium - responsive yet forgiving for progressing riders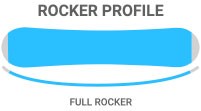 Rocker - a playful forgiving feel with plenty of float
Our Price: $279.94
Reg. $399.99(30% OFF)
Watch 2014 Gnu B-Nice BTX Snowboard Video Reviews:
Read the Review Transcript:
Hey, I'm Kelsey. I just got off the Gnu B Nice. I would rate this board a 5 out of 5 for that beginner-intermediate rider. It's very smooth when you start riding it down the hill, it's got pretty good speed if you want to charge a little for that beginner rider, which is really nice. And it holds a really good edge, and it's super lightweight under feet, as well. It's just a fun board to cruise with and learn on and advance your riding to that intermediate level.
Read the Review Transcript:
Hi, this is Emily here. Just got off of the Gnu B Nice. I give this board a 4.5 out of 5 stars today for a beginner or intermediate rider. Something that can give you a lot of confidence getting in and out of your turns. The toe side and heel side edge held very, very well. If you don't put a ton of power into your board and you like something that is just predictable and easy to ride, then this is definitely that board for you. Every movement you put into it, it responds right back to you, but it's very stable, very predictable. So, if you're looking to advance your riding from that beginner to the intermediate-advanced person, then this is going to be that board.
Read the Review Transcript:
Hi, I'm Jenna. I just got off the Gnu B Nice. I give this board 4 out of 5 stars. I actually have this board and it's a fun board for just kind of playing around. It's good for either kind of the entry to mid-level girl who wants something soft flexing that she can go out and kind of learn and progress on or the girl looking for fun jib board. Something to take in the park, something to hit boxes and rails with. It's very soft flexing. What's nice though is you do have magnatraction, so you do have a little bit more edge hold than you would on a board that's this soft. So again, great board for sort of that beginner to intermediate level girl looking for a fun board to take all over the mountain, or somebody who wants just to stick in the park.
Read the Review Transcript:
Hi, my name's Kara and I just got off the Gnu, the B Nice. It's a nice beginner to intermediate board, I'd give it 4 stars for someone who's looking to move up from beginner to intermediate. It's got a little bit of pop to it, but holds a great edge at slow speeds. So, once again, I'd give it 4 out of 5 stars.