2015 Burton Feather Snowboard Review
Average Rating:
4.0
All Mountain boards are for general cruising and carving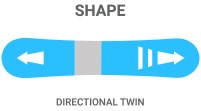 Directional Twin -most common, tip/tail shape not identical
Very Soft - the most forgiving option for beginners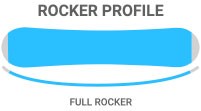 Rocker - a playful forgiving feel with plenty of float
Watch 2015 Burton Feather Snowboard Video Reviews:
Read the Review Transcript:
Hi guys, my name is Erica and I just got off of the Burton Feather V rocker. This board is really really great for beginners. Not so great at high speeds, but if you're a beginner it's totally awesome for you. It's got a rockered shape so it's gonna help you learn how to initiate your heel-side and toe-side carve and if you're about to catch an edge it's going to really forgive you and let you get back to normal. So I would recommend this board to any beginner out there that's wiling to learn.
Read the Review Transcript:
Hi I'm Jenna, I just got off the Burton Feather. I'd give this board a 4 out of 5 stars. It's really the ideal board for entry level girl looking for something just super soft, super forgiving and great to learn and progress on. It has V Rocker, so it's a totally rockered board and what that does is it just brings your contact points right up out of the snow and makes it so you can really slide those turns. I'm a terrible switch rider, I rode it switch for a while to try to get the feel, kinda the entry level feel and it's great for that girl who's still learning how to make those turns and your really kinda sliding those turns at first when you're first learning and you're not going to catch your edge on this. So again awesome board for the entry level girl, looking for her first board.