2015 Burton Feelgood Flying V Snowboard Review
Average Rating:
5.0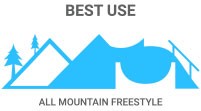 All Mountain Freestyle boards are for carving and the park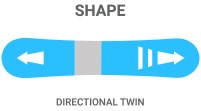 Directional Twin -most common, tip/tail shape not identical
Stiff - ideal for hard-chargers who want responsive boards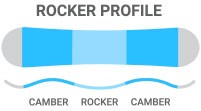 Camber/Rocker/Camber - a mix of response and playfulness
Watch 2015 Burton Feelgood Flying V Snowboard Video Reviews:
Read the Review Transcript:
Hi I'm Erica and I just got off of the Burton Feelgood Flying V. I'd give this board a 5 out of 5 stars for that advanced to advanced-intermediate level girl who just loves to fly down the hill. It's a pretty stiff board at lower speeds but it's definitely a fun board to ride. I'd recommend it to anyone who is confident in their riding.
Read the Review Transcript:
Hi I'm Jenna, I just got off the Burton Feelgood Flying V. I give this board a 5 out of 5 stars. It's an ideal board for your advanced level girl even down to your intermediate level girl. But the girl looking for a board that can really charge at higher speed, but can be playful when you need it to. It's got Flying V, which means you have a combination of both rocker and camber so you get the float of rocker as well as the edge hold and the response of camber. One thing they did change for this year is it's got squeeze box high. So you basically have the board is a little bit thicker underneath the bindings and a little bit thinner in between the bindings. What that does is it gives you again that forgiveness that playfulness when you need it but you can really load it up when you are coming in and out of turns. Really get that response and that edge hold. Again 5 out of 5 stars. Awesome board for the advanced level girl looking for a board that she can take everywhere on the mountain