2015 Ride Baretta Snowboard Review
Average Rating:
3.5
All Mountain boards are for general cruising and carving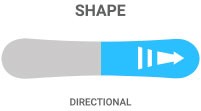 Directional - nose and tail have different shape and flex
Medium - responsive yet forgiving for progressing riders
Rocker/Camber/Rocker - a mix of response and playfulness
Watch 2015 Ride Baretta Snowboard Video Reviews:
Read the Review Transcript:
Hey guys my name is Erica. I just got done riding the Ride Baretta. This is a really good intermediate all-mountain board for the intermediate rider that's just looking to tear it up on any of the slopes. It does really good a high speeds. It's a got a hybrid shape to it, so it camber underneath in between the bindings so it gives it that extra little pop. So it's a little bit more of an aggressive board, but it's really really good for that intermediate rider.
Read the Review Transcript:
Hi I'm Jenna. I just got off the Ride Baretta. I'd give this board a 3 out of 5 stars. The reason being, it's not really the ideal board for me. It's a great solid board for your intermediate level all-mountain rider looking for something to just cruise on, something fairly soft flexing. It does have Carbon Array 3, so if you do bring it up to speed you will get that response and edge hold. But it's still pretty forgiving, especially with the Slimewalls it really dampens the vibrations. Then the reason why I gave it 3 out of 5 stars, is that it's a little bit wider. So I've got fairly smaller feet and it rides right side, so it's actually just a little bit wider for girls who are maybe in 9's, 10's, 8's sized boots. So again 3 out of 5 stars. Great for that intermediate level girl looking for an all-mountain ride.