2015 Ride Buckwild Snowboard Review
Average Rating:
4.5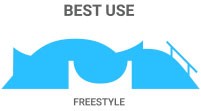 Freestyle boards are designed for doing tricks in the park
Twin - symmetrical allowing rider to ride regular or switch
Medium - responsive yet forgiving for progressing riders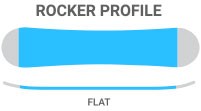 Flat - long, stable flat section with a catch free feel
Watch 2015 Ride Buckwild Snowboard Video Reviews:
Read the Review Transcript:
Hey this is Ian. I just got done riding the Ride Buckwild in a 155. I give this 5 out of 5 stars. This is a great advanced freestyle board. Holds great, great edge hold at higher based speeds. Definitely meant for hitting definitely larger base jumps. Has the Carbon Array 3 in the tip and the tail, stiffens it up but gives it a little bit more pop to it. And just an all around great fun solid board.
Read the Review Transcript:
Hey I'm Rob, just got done riding the Ride Buckwild. Give this board 4 out of 5 stars. The place where this loses a star for me, I'm not much of a freestyle guy in all honesty. It's very much a freestyle board. You can feel it, it's really low swing weight, tons and tons of pop, lots of snap. It's a really fun board to ride, just not the type of board I would go and buy for myself personally. Tons of fun for that high end all-mountain freestyle guy. If you're really a freeride guy I'd probably go somewhere else in the line.