2015 Ride Compact Snowboard Review
Average Rating:
4.0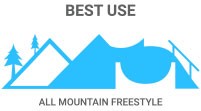 All Mountain Freestyle boards are for carving and the park
Twin - symmetrical allowing rider to ride regular or switch
Soft - great for beginners or park, forgiving and playful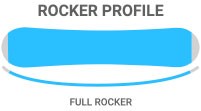 Rocker - a playful forgiving feel with plenty of float
Watch 2015 Ride Compact Snowboard Video Reviews:
Read the Review Transcript:
Hey guys my name is Erica and I just got done riding the Ride Compact. This is a really really great board for beginners or early intermediates. It just really helps you learn how to rock into your turns. It's really easy, it's catch free rocker. It's going to be an awesome board for you to play with. But you can take it down higher speeds and it's gonna stay stable for you. I'd recommend this board to anybody that's confident in their abilities and even if they are a beginner it's gonna work really well for ya.
Read the Review Transcript:
Hi I'm Jenna. I just got off the Ride Compact. I give this board a 4 out of 5 stars. It's a true twin and it's really a fun board for your entry level girl who's just getting into it, or maybe your girl just looking for a soft board she take into the park. It does have Slimewalls, so you can ride it a little bit faster and it is going to absorb some of the vibration. But it's not a board you're going to take down the front of the hill and just really bomb on or charge. Again just a great board for your girl who's maybe looking for her first time board or something real soft and flexy to take into the park.