2015 Rossignol Diva MagTek Snowboard Review
Average Rating:
5.0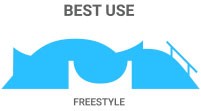 Freestyle boards are designed for doing tricks in the park
Twin - symmetrical allowing rider to ride regular or switch
Stiff - ideal for hard-chargers who want responsive boards
Rocker/Camber/Rocker - a mix of response and playfulness
Watch 2015 Rossignol Diva MagTek Snowboard Video Reviews:
Read the Review Transcript:
Hey guys, I'm Erica and I just got off of the Rossignol Diva Magtek This is a really awesome board. I give it a 5 out of 5 stars. It was a hard charging board. It's great for that intermediate to advanced style rider that just wants to rip up all mountain, all over the place any time of the day. It's also really really poppy so if you wanna hit a little roller it's gonna be great for that. I'd say it's great for racing. It's got Magna Traction on it so it's gonna dig into those carves even on the icy days. It's gonna be a great all around board for anybody.
Read the Review Transcript:
Hi I'm Jenna. I just got off the Rossi Diva Mag. I give this board 5 out of 5 stars. This boards always been one of my favorite's but they did make a little bit of a change to it. Which makes it a little bit more versatile in my opinion. And a little bit more forgiving for maybe that intermediate level girl, all the way up to that advanced level girl. It's got Mag so it's at higher speed it has great edge hold. But what they did is they actually, now it has a reverse side cut. Up here and here. Which makes this board perform and turn a little bit easier at lower speeds. So you used to have to really get this board up to speed to really make it hold it's edge and it really kinda pushed you around a little bit at slower speeds. But now it's a little bit easier going to those lower speeds. So, great board for the intermediate to advanced level girl who wants to just hit everywhere on the mountain. Maybe a little bit in the park, as well as cruise at high speeds everywhere else.