2016 Arbor Wasteland Snowboard Review
Average Rating:
5.0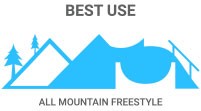 All Mountain Freestyle boards are for carving and the park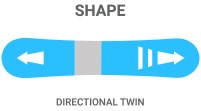 Directional Twin -most common, tip/tail shape not identical
Stiff - ideal for hard-chargers who want responsive boards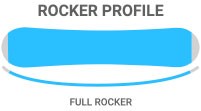 Rocker - a playful forgiving feel with plenty of float
Watch 2016 Arbor Wasteland Snowboard Video Reviews:
Read the Review Transcript:
Hey, this is Ian. I just got off of the Arbor Wasteland. This is a stunning board. It's got kind of a Frank Lloyd Wright inspired design to it with some beautiful wood inlay. I really like this board - 5 out of 5 stars. It's got the Grip Tech in the sides so it carves super well, really grips the snow. On those turns it gives you some good speed. It's also got a very unique cut here in the tail and, well, both of them, that really helps with that as well. Super fast, a little softer than some of their other boards but an absolute joy to ride. 5 out of 5 stars.
Read the Review Transcript:
Hey, this is Ian. Just got done riding the Arbor Wasteland in a 160. I give this board 5 out of 5 stars. This is an amazing board. Definitely geared for your advanced all-mountain powder-style rider. Definitely a little bit stiffer. Has the Grip Tech edges so bumped out right in front of the bindings to give you a little bit better edge hold. Very easy to transition edge-to-edge. In the little bit of the deeper the snow, the shovel of the board definitely just likes to float making it super easy to turn. Once again, 5 out of 5 stars - the Arbor Wasteland.
Read the Review Transcript:
I'm Steve. I just got done riding the Arbor Wasteland. I'm going to give this board a 4 out of 5 stars. For a board with rocker, it held a great edge even on the hard pack snow. I'd probably recommend it for somebody that wanted a big mountain board that wanted to do more than just the hard pack, that wanted to go off into like powder or in a mixed snow. It's a great board for that. You can ride as hard as you want and it will hold a great edge in between your feet.